This post comes from the desk of Sam, one of our Fit Mavens.
At SFYS we define ourselves as a bra fitting boutique rather than a lingerie store because we specialize in helping women find their best possible bra. To us a bra fitting is a one-on-one collaborative process that seeks to find the bra that best suits the client's body silhouette, boundaries and needs. Over the years we've noticed some misconceptions about bra fitting floating around. We hope that by busting these myths we can make fittings clearer, more comfortable and all around better.
Above: Simone Perele Celeste for sizes 30-38 B-E.
Myth 1: The same bra works for everyone.
Clients often come in requesting a particular bra that has garnered rave reviews from a celebrity spokesperson, a magazine or a friend. Sometimes this bra works for the client, but more often than not there is a different style that ends up working better. To start, different sizes require different engineering for support, comfort and best fit. For example, Simone Perele's Celeste demi offers a beautifully rounded-yet-perky shape for smaller busted women, however on a fuller busted gal the soft lace and thin straps wouldn't be able to give the lift and support most of us desire. Luckily Simone Perele offers a full busted version of Celeste which features a sheer mesh lining and more supportive straps that will fit and flatter a fuller cup size.
Above: Simone Perele Celeste for 32-38 E-G busts.
Even if two women wear the same size, the same bra will not always be best. Bra fit depends not only on size, but also on the shape of a woman's breasts and body. Prima Donna's Madison is a favourite for many women; however a woman with projected, closer set breasts may have trouble getting the center wires to tack. In this case, the deeper cups of Empreinte's Thalia are an ideal match.
Above: Prima Donna Madison (30-44 F-I) and Empreinte Thalia (30-44 E-H) come in similar size ranges, but work for different breast shapes.
Myth 2: All bras in the same size should fit the same.
During our fittings, clients are sometimes confused when we bring them more than one size. Just like when you are buying jeans, the size of bras depends on brand and style. Some companies fit a little big, some companies fit a little small; that's why our fitters have the product knowledge necessary to choose the right size. For example, a woman may fit an Empreinte bra in a 32F, but need a 34G in a Cleo bra!
Above: Empriente Juliette (below) and Panache Lucy (on top), both in 34F
We hear a lot of complaining about the lack of standardization within bra companies, but this can often work to a client's advantage. Many women are in between sizes in the band or cup, and find the smaller size too small and the size up too large. Luckily, in this instance a fitter may be able to choose a bra that is cut "in between" sizes. For example, a woman who finds a 30 back too tight and a 32 band too loose may feel perfectly secure in the 32 band of Tom by Marie Jo L'Adventure, as this bra is cut somewhat small in the back.
Above: Tom (30-38 A-F) by Marie Jo L'Adventure
Myth 3: If you can't find your size at a chain or department store, you're a "specialty size".
Many women who are sized out of chain or department stores say that they wear a "specialty size." Often this terminology seems to indicate that these women are abnormal in some way, and that sizes beyond the standard (32 to 38 A to D) are unusual and less necessary. This way of thinking is pushed by the media (e.g. the framing of larger cup sizes as comical and outlandish), our peers ("32FF, that's porn star boobs!") and ourselves ("why can't I shop at a normal store?"). Our concept of what's "normal" when it comes to bra sizing is completely skewed by mis-fitting, mis-education and lack of access. Because most stores don't sell the full range of sizes needed, many women are buying bras that are too big, too small or both. In addition, most women have no idea what to look for in a proper fit (especially since many lingerie advertisements show models wearing ill-fitting bras).  This skews numbers in surveys and helps feed popular bra sizing myths (Anything above a D cup is huge! Anything below a 34 back is tiny!).
Above: Wapsi Square shows that the alphabet doesn't stop at D!
The North American lingerie industry is a major culprit when it comes to misleading sizing, as most department store and chain brands work with a limited sizing (it's cheaper and easier to only manufacture a small number of sizes). Conversely, most European brands routinely make up to a G cup. In reality, the sizes outside the "bra matrix" are quite popular and not unusual at all. It's just that being an unseen and rarely discussed garment, you usually wouldn't know what bra size a woman wears. But if you look around to your friends, family and even strangers on the street, you'll notice women come in an astonishingly variety body types, it makes sense that the lingerie industry should reflect this.
Myth 4: We're judging your body.
It's heartbreaking when a client starts apologizing for her body in the fitting room. Sometimes women tell us to ignore their stomach or blush at their unshaven underarms; and we'd like you to know that this is entirely unnecessary. We understand that for some, the idea of a fitting can be little uncomfortable. After all, you're half naked in tiny room with a stranger! However, the fitter is not there to judge your body, she's there to judge the fit of the bra. Fitters will see thousands of different body types over time. This knowledge of the diversity of shapes and sizes of women leads to a unique understanding and appreciation of what women really look like.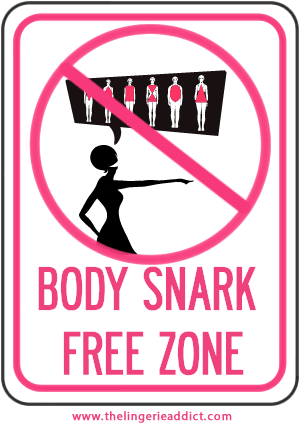 Want to make your website a Body Snark Free Zone? Click here!

Myth 5: We will choose the best bra for you.
Sometimes our clients want their fitter to choose the bra that's best for them. This is an impossible task because the best bra for a woman depends on many personal factors. Fitters have an intense knowledge of technical fit and product detail; however bra fit is not the only factor. Comfort and aesthetics are also key, and these factors are very personal. Some women like the security of a very snug band, while others find it an easier band more comfortable. Some women love the look of lace, while others prefer a smooth and seamless aesthetic. When choosing a bra, a fitter can help you narrow down your selection to the bras that fit you best. But a fitter cannot tell you how a bra feels on your body, or whether red is your favourite colour! That's why a fitting is always a collaborative process, rather than a command.
We hope this listicle has brought some more understanding to what it means to have a bra fitting. Have you heard any common myths or misconceptions about bra fitting that deserve to be busted? Sound off in our comments! As always, we love to hear what you think. Hope to see you soon, xo SFYS